Book Signings and Special Events in DFW
Wednesday - February 29, 2012
WHAT: Author Signing
Deborah Coonts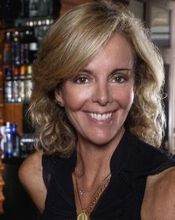 A sinful escape -- lucky in Vegas
Books:
Lucky Bastard, May 2013
So Damn Lucky, February 2013
Lucky O'Toole Las Vegas Adventures
So Damn Lucky, March 2012
Lucky O'Toole Vegas Adventures #3

Deborah Coonts Happy Hour and talk
WHERE: A Real Bookstore (directions)
113 Prairie Road
Fairview, TX 75071

TIME: 6:00pm - 8:00pm local time
Deborah Coonts
My mother tells me I was born a very long time ago, but Iím not so sureómy mother canít be trusted. These things I do know: I was raised in Texas on barbeque, Mexican food and beer. I currently reside in Las Vegas, where my friends assure me I cannot get into too much trouble. Silly people.
I am the author of WANNA GET LUCKY?, the first in the Lucky OíToole Las Vegas Adventure series published by Forge Books. The second installment, LUCKY STIFF, is scheduled for a February 2011 release. The third, SO DAMN LUCKY, to follow.